Tue 29 Apr 2014
Posted by EDMDA under General
Comments Off on May Day 2014 Direct Actions and Events!
MAY 1st 2014 Direct Actions and Events!
____________________________________________________________________________
United Rank & File Construction Workers Take A Stand on May Day
– Picket Line against the 2 Gate System – 5 AM – 16th and Mission- SF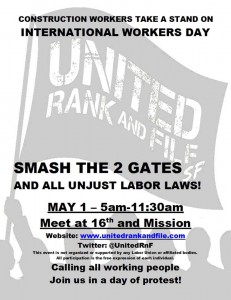 Join us as we return to a proud history of direct action to fight to protect our own livelihoods, to raise up and organize all workers and against laws that restrict us.
On May 1, International Workers Day, we will be gathering at 16th and Mission at 5am to protest the 2 Gate System. This is a system that contractors and developers have created in order to impose the restrictive, discriminatory and repressive anti-worker laws of the Taft-Hartley act on construction unions.
For more info: http://unitedrankandfile.com/2014/04/19/call-to-action-may-1/ – https://www.facebook.com/events/592210377542044/
————————————————————————————————————————————-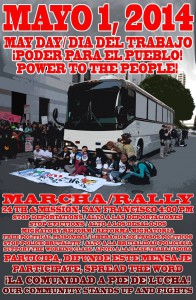 4 PM -24th and Mission – SF
Mayday is celebrated by workers throughout the world. Even though it's origin stems from an 1886 uprising in Chicago, Mayday celebrations in the U.S. have been suppressed by the corporate media and establishment politicians alike. In 2006, however, the power of the immigrant rights movement reestablished May 1st as a day for U.S.-based mass movements to take their demands to the streets.
Today, as workers are facing poverty wages, evictions and foreclosures, deportations, police brutality and countless other forms of oppression, the date is an important one which can unite these issues that affect all workers.
Join community groups and activists in this important date.
The following is a list of demands under the slogan "The Community Fights Back! ¡La Comunidad a Pie de Lucha!"
Full Rights for All Immigrants! Stop the Deportations!
End the Evictions and Gentrification! Housing is a Right!
Stop Police Brutality!
Stop the Privatization of Public Services! Living Wage Now!
Halt and Reverse Environmental Destruction!
No to wars and occupation!
Supporting organizations: ALIADI, ANSWER Coalition, BALASC, Center for Political Education, FMLN-NorCA, Party for Socialism and Liberation, SOA-Watch, Station 40, Yo Soy 132-Bay Area, Talleres Populares de Junio
More info: 415-821-6545
El 1o de mayo es celebrado por trabajadores por todo el mundo. Aunque su origen surge del levantamiento en Chicago en 1886, las celebraciones del 1o de mayo en los EEUU han sido suprimida por los medios corporativos y políticos establecidos por igual. Sin embargo, en 2006, el poder del movimiento por los derechos de los inmigrantes restableció el 1o de mayo como un día para que los movimientos sociales de los EEUU llevaran sus demandas a las calles.
Hoy, cuando los trabajadores se enfrentan a salarios de pobreza, evicciones y quiebras hipotecarias, deportaciones, la brutalidad policía y un sin numero de formas de opresión, la fecha es una importante en la cual puede unir estos temas que afectan a todo trabajador.
¡La Comunidad a Pie de Lucha!
¡Derechos Plenos para Todo Inmigrante! ¡Alto a las Deportaciones!
¡Fin a las Evicciones y Desplazamiento! ¡La Vivienda es un Derecho!
¡Alto a la Brutalidad Policial!
¡Fin a la Privatización de Servicios Públicos! ¡Salario Digno Ya!
¡Parar y Retornar la Destrucción Ambiental!
¡No a las Guerras y Ocupaciones!
Organizaciones en apoyo: ALIADI, ANSWER Coalition, BALASC, Center for Political Education, FMLN-Norcal, Party for Socialism and Liberation, SOA-Watch, Station 40, Yo Soy 132-Bay Area, Talleres Populares de Junio.
————————————————————————————————————————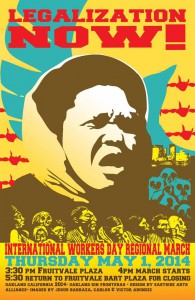 3:30 PM – Rally @ Fruitvale Plaza – Oakland, CA
4:00 PM – March
5:30 PM – Closing  Ceremony @ Fruitvale Plaza – Oakland, Ca
—————————-————————————————————————–
MAY DAY – San Jose

3:00 PM – 6:00 PM
Location Details:
This year we are star

ting at 2 different locations 

1) Story Rd & S King Rd
San Jose, CA 95122

2) Our Lady of Guadalupe Church
2020 E San Antonio St, San Jose 95116
Both locations will march together and end in the same location

San Jose City Hall
200 E Santa Clara St, San Jose, CA 95113

 
Come join over twenty grassroots organizations that will come together on May 1st to demand the rights of workers and migrant communities in San Jose promoting full workers rights while denouncing Obama's Two Million Too Many deportations!
Points of Unity:
PROMOTE FULL WORKERS RIGHTS,

STOP THE DEPORTATION OF ALL IMMIGRANTS,

END SECURED COMMUNITIES,

CREATE A PATH TO CITIZENSHIP,

PROMOTE FAMILY REUNIFICATION,

END E VERIFY,

NO TO GUEST WORKER PROVISIONS and

RECOGNITION OF ALL NATIVE NATIONS FROM ALASKA TO CHILE

This year we are starting at 2 different locations 
1) Story Rd & S King Rd
San Jose, CA 95122

2) Our Lady of Guadalupe Church
2020 E San Antonio St, San Jose 95116

Both locations will march together and end in the same location

San Jose City Hall
200 E Santa Clara St, San Jose, CA 95113

Come out and show you support! #SiSePuede #PrimeroDeMayo #Not1more #2million2many
#SanJoseComeOut #CIR #InternationalWorkersDay #ObamaEscucha
—————————————————————————————————–
Film Screening: Wisconsin Rising and Q & A w/ Director Sam Mayfield
May 1, 2014, 7:30 pm
518 Valencia St. (at 16th Street) – San Francisco
"Wisconsin Rising" (55 min.) tells the story of the largest sustained workers resistance in American history. In 2011, Wisconsin was the canary in the coal mine for America as newly-elected Republican Governor Scott Walker suddenly stripped collective bargaining rights from the state's public employees, undoing eight decades of basic workers' rights.
Noche de Película: Wisconsin se Alza y una discusión con el director Sam Mayfield
1º de mayo, 7:30pm
518 Calle Valencia (sobre la Calle 16)- San Francisco
"Wisconsin se Alza" (55 min.) cuenta la historia de la mas grande y sostenida resistencia de trabajadores en la historia americana. En el 2011, Wisconsin era el centro de lucha sindical en America cuando el Gobernador Republicano Scott Walker de repente eliminó el derecho a la negociación colectiva a los empleados estatales públicos, deshaciendo ocho décadas de derechos laborales.
———————————————————————————————————————————————————–
FROM MARIKANA, SOUTH AFRICA TO OAKLAND, CALIFORNIA:
THE STRUGGLE FOR WORKERS POWER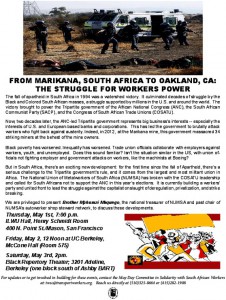 The fall of apartheid in South Africa in 1994 was a watershed victory. It culminated decades of struggle by the Black and Colored South African masses, a struggle supported by millions in the U.S. and around the world. The victory brought to power the Tripartite government of the African National Congress (ANC), the South African Communist Party (SACP), and the Congress of South African Trade Unions (COSATU).
Now, two decades later, the ANC-led Tripartite government represents big business's interests — especially the interests of U.S. and European-based banks and corporations. This has led the government to brutally attack workers who fight back against austerity. Indeed, in 2012, at the Marikana mine, this government massacred 34 striking miners at the behest of the mine owners.
Black poverty has worsened. Inequality has worsened. Trade union officials collaborate with employers against workers, youth, and unemployed. Does this sound familiar? Isn't the situation similar in the US, with union of- ficials not fighting employer and government attacks on workers, like the machinists at Boeing?
But in South Africa, there's an exciting new development: for the first time since the fall of Apartheid, there's a serious challenge to the Tripartite government's rule, and it comes from the largest and most militant union in Africa. The National Union of Metalworkers of South Africa (NUMSA) has broken with the COSATU leadership and called for South Africans not to support the ANC in this year's elections. It is currently building a workers' party and united front to lead the struggle against the capitalist onslaught of deregulation, privatization, and strike breaking.
We are privileged to present Brother Mphumzi Maqungo, the national treasurer of NUMSA and past chair of NUMSA's autoworker shop steward network, to discuss these developments.
THURSDAY, MAY 1, 7:00 PM
ILWU Hall, Henry Schmidt Room
400 N. Point St./Mason, San Francisco
FRIDAY, MAY 2, 12 NOON
UC Berkeley, McCone Hall (Room 575)
SATURDAY, MAY 3, 2:00 PM
Black Repertory Theater
3201 Adeline, Berkeley
(one block south of Ashby BART)
For updates or to get involved in building for these events, contact the May Day Committee in Solidarity with South African Workers at: twsc [at] transportworkers.org. Reach us directly at (510)325-8664 or (415)282-1908
_______________________________________________________________________________________________
No Responses to " May Day 2014 Direct Actions and Events! "
Sorry, comments for this entry are closed at this time.