The Assembly is every Sunday – 2:00 PM – Mosswood Park Amphitheater (South-West Side of Mosswood Park) – MacArthur and Telegraph – Oakland – CA
____________________________________________________________________________________
Tuesday, April 22nd:
Earth Day March!
1:00 PM – Sproul Plaza of UC Berkeley – Telegraph Ave. and Bancroft Way – Berkeley, California
Unanimously approved!
_____________________________________________
Thursday, April 24th:
Direct Action Training Day and film screenings
9:00 AM-5:00 PM – The Sudo Room – 2141 Broadway Ave. Downtown Oakland (Use side entrance on 22nd st.) California
This will full day of Direct Action trainings/workshops on how to use a diversity of non-violent direct action tactics and skills such as pickets/strikes, lockdowns, climbing techniques/treesits, banner drops, blockades, security culture, scouting, targets, labor law, legal observation, counter-surveillance, affinity groups, protest art and much more.
Film – Kahsatstenhsera: Indigenous Resistance to Tar Sands Pipelines – Kahsatstenhsera gah-sad-sdanh-se-ra is a Kanienkeha:ka (Mohawk) word that means Strength in Unity. This short documentary details contemporary Indigenous resistance to tar sands pipeline expansion, in particular the Line 9 and Energy East pipelines, which threaten the health of our territories in the northeast of Turtle Island. It includes the voices and perspectives of Dene, Wolastiqiyik, Mi'kmaq, Anishinaabe, Haudenosaunee and Wet'suwet'en land defenders.
Film – "Just do it!" is a film about direct actions in the UK including when trade unionists and environmental activists took over the Vestas wind turbine factory to stop it's closure.
Film –  "Rocking The Foundations" – The film is about the Builders Labourers' Federation of Australia who fought victoriously for their rights as a union, the rights of indigenous people, against gentrification, and in defense of the environment. They did this by performing the first of what are now known as the "green bans" or an environmental strike.
Contact ecogeneralstrike@riseup.net to help organize or propose a workshop!
Unanimously approved!
_____________________________________________
Friday, April 25th:
Bike Workers Contingent @ SF Critical Mass
5:30 PM – Justin Herman Plaza near the Embarcadero BART (beginning of Market Street) Downtown San Francisco, CA
Bicycle workers are often exploited by their employers and are often over looked by union organizers. We are Bike Mechanics, Sales People, Parts Manufacturers, Pedi-cabbers, Couriers, ETC. We would like to come together as a contingent of the SF Critical Mass to celebrate our hard work and network to build solidarity with others in the Bicycle Industry. Come join us if you want to build towards having a Bay Area Bicycle Workers Union!
Unanimously approved!
—————————-
Friday April 25, 7PM @ the Humanist Hall, 390 27th Street, Oakland, CA 94612 (between Telegraph and Broadway) $5 admission (no one turned away for lack of funds).
How to make an Eco-socialist Revolution with Ian Angus
Eco-Socialist Activist, founder and editor of Climate and Capitalism , an ecosocialist journal, which reflects the perspective of ecological Marxism. He is the author of The Global Fight for Climate Justice: Anticapitalist Responses to Global Warming and Ecological Destruction (2010); and Too Many People? Population, Immigration, and the Environmental Crisis (2011).
SPONSORED BY: SCNCC Bay Area Branch, info@bayarea.ecosocialist.org and Kendra Alexander Foundation, info@kafoundation.org
System Change Not Climate Change: The Ecosocialist Coalition is a network of individuals and groups dedicated to fighting against ecological destruction and the capitalist system that causes it, and for a new, sustainable world. Please find out more about SCNCC and get involved at:
www.systemchangenotclimatechange.org.
The Global Climate Convergence for People, Planet and Peace over Profit is an education and direct action campaign beginning this spring, with "10 days to change course," running from Earth Day to May Day. Please find out information about GCC at
http://globalclimateconvergence.org
_____________________________________________
Saturday, April 26th:
COMMUNITY FARM DAY AT THE GILL TRACT
SATURDAY, APRIL 26TH, 11 AM – 3 PM
GILL TRACT, ALBANY, CORNER OF SAN PABLO AND MARIN
entrance on Jackson Ave.
A unique partnership between community members, UC Berkeley students, academics and staff has been working toward creation of a 1.5 acre urban farm, education and research center on the Gill Tract in Albany. Come join us for a Spring Planting Celebration on Saturday, April 26, from 11-3 pm, at the corner of Marin and San Pablo in Albany as we celebrate this new joint venture by planting, learning, playing, and eating together!
Community members from Albany, Berkeley and other nearby cities will be gathering with university students at the newly prepared site to start the first step in the production of fresh produce for those in the wider community who are least able to afford good food. In addition to putting seedlings into the ground, information and hands-on activities for all ages will be available. Lunch will be provided by the Berkeley Student Food Collective. Feel free to bring additional salads, snacks, or desserts to share our bounty together as a community!
This section of the Gill Tract has been the site of past academic research on Integrated Pest Management. Later it was assigned to the University's Capital Projects and slated for development. Following 'Occupy the Farm' events on Earth Day 2012 attention has been drawn to the need for land where local food can be grown. Since then the University of California has restored oversight of a section of this agricultural land to the College of Natural Resources for 10 years and began collaborating in a community-university partnership to cultivate a 1.5 acre section known as "Area A,". The Gill Tract Farm Coalition, an alliance of community members is part of this collaboration. This collaboration is open to community members.
Heavy rain will postpone event to May 3rd.
To learn more about the Gill Tract Farm Coalition and this event, please contact Hank Herrera at
585-317-5823, hank [at] c-prep.org
TO VOLUNTEER FOR PREPARATION AND/OR AT THE EVENT ON APRIL 26TH go to http://vols.pt/AtHGfp or just show up.
UC contact: Christy Getz, 510-207-9424, cgetz [at] berkeley.edu
Gill Tract Farm Coalition Student Organic Gardening Association
UC College of Natural Resources UC Cooperative Extension Berkeley Student Food Collective
———————————————————————————————————————————
PEOPLE'S EARTH DAY 2014
Environmental Justice Walk Against Cancer and Pollution
Sat, April 26, 10am – 11am
Meet in front of Martin Luther King Jr. Park
5700 block of 3rd Street at Carroll
Bayview District of SF
Map at http://goo.gl/maps/H2zRb
Let's march together in memory of our loved ones who have passed or are suffering from cancer, and dedicate ourselves to work for healthy, resilient communities and environmental justice.
Sponsored by Greenaction for Health and Environmental Justice Huntersview Mothers and Fathers Committee for Health and Environmental Justice 350 Bay Area 350SF Breast Cancer Actiom Occupy San Francisco Environmental Justice Working Group
——————————————————————————————————————————
Towards an Ecological General Strike: A presentation about the global history of Environmental Unionism and film screening of "Who Bombed Judi Bari?"
3 PM-7 PM – the Sudo Room – 2141 Broadway Ave. – Downtown Oakland, CA (use side entrance on 22nd)
Join us at the Sudo Room for a short presentation about the BLF "green bans" in Australia, the Redwood summer in California,and the global movement for Environmental Unionism. Followed will be a screening of the Film "Who Bombed Judi Bari?" Which is about the direct actions taken by IWW Labor Organizer and Earth First!er Judi Bari and the repression she faced.
For more information about the IWW, Environmental Unionism, and relevant news visit: www.ecology.iww.org or https://www.facebook.com/IWWEnvironmentalUnionistCaucus/
Unanimously approved!
_____________________________________________
Sunday, April 27th:
Earth Day to May Day Assembly!
2:00 PM – Mosswood Park Amphitheater (Broadway Ave. and MacArthur Blvd.) – North Oakland, California
Join us at the Earth Day to May Day Assembly to organize direct actions from April 22nd to May 1st to raise awareness about the intersections of labor rights, immigration rights, indigenous rights, gentrification, and environmental justice issues. You can propose actions or events to fill in the days between may day and earth day. Examples include but are not limited to: film screenings, sit-ins, tree sits, guerrilla gardening, pickets, marches, blockades, strikes, etc.
You can propose agenda items to ecogeneralstrike@riseup.net
Unanimously approved!
——————————————————————————
Why Capitalism Cannot Save the Planet
2:00 PM-3:00 PM – 747 Polk St. – San Francisco, CA
Why Capitalism Cannot Save the Planet–a Marxist presentation and discussion on the economics that drive Big Business to pollute and why the ruling class cannot solve this problem. The event is hosted by the Bay Area Freedom Socialist Party at 747 Polk St. in San Francisco.
Unanimously approved!
_____________________________________________
Monday, April 28th:
Protest against the Koch Brother's Petcoke Facility
3:00 PM – Marina Walk Park – Pittsburg, CA
The Koch Brothers have been a major influence in dismantling workers rights, militarizing our borders, corrupting the media, and the destruction of the environment. They heavily fund organizations and politician that deny climate change and bust unions.
—————————————————————–
2014 SF Workers Memorial Day-Fighting For Health And Safety And Healthcare For Injured Workers
April 28, 2014 7:00 PM
ILWU Local 34
5 Berry St./Next To AT&T Ball Park
San Francisco, CA
Workers Memorial Day San Francisco
Remember The Dead, Fight For The Living
Join injured workers, health and safety advocates, healthcare advocates and others on Workers Memorial Day in San Francisco on April 28, 2014. In California workers face a more and more dangerous situation on the job with injuries and deaths from workplace toxins and hazards. New technologies such as biotech and nanotech are unregulated and workers union and unorganized who speak out about health and safety are illegally retaliated against in many workplaces.
At the same time, California has only 162 OSHA inspectors for 18 million workers and the state refuses to even hire more inspectors with money that has already been appropriated. Ca-OSHA whistleblowers are now speaking out about the need to defend Ca-OSHA to protect California workers on the job.
Workplace bullying on the job is also creating more health problems including depression which is now a larger part of workplace injuries yet has been threatened by California SB 863 which limits compensation for these injuries.
Injured workers also face a growing crisis after they have to go through one obstacle course after another to get their healthcare. Doctors who are not even licensed in California operate through an outsourced company called Maximus which has anonymous doctors giving determination about whether workers are able to get their healthcare needs met.
On this day we will commemorate those workers killed on the job and those workers and their families who are fighting for healthcare and justice on the job.
Sponsored by
Injured Workers National Network http://www.iwnn.org
http://www.facebook.com/pages/Injured-Workers-National-Network-IWNN/108362552680848?fref=ts
California Coalition For Workers Memorial Day http://www.workersmemorialday.org
For information contact (415)282-1908
______________________________________
Tuesday, April 29th:
Critical Mass and March for the Health and Safety of Workers, the Community, and Environment
12:30 – Rally at PGE
1:00 PM – Critical Mass to Richmond BART
3:00 PM – March from Richmond BART to Chevron
Chevron and PG&E's lack of transparency and ignorance are a threat to the health and safety of workers, the community, and the environment.
PG&E had a pipeline explosion in 2010 that killed 8 people and destroyed 38 homes. It was proven that they spiked gas pipeline pressure 10% over the legal, and only inspected corrosion but not welds, complete documentation is missing for about a quarter of its 1,800-plus pipeline miles, and many other health and safety issues.
Chevron had a major fire almost 2 years ago after they clearly neglected the pipes corroding ignoring warnings from workers and inspectors for over a decade. This fire almost killed 14 refinery workers and sent 30,000 people to seek medical treatment because of air pollution.
Unanimously approved with friendly amendments!
_____________________________________________
Wednesday, April 30th:
Picket against Health and Safety issues with Crude by Rail
All Shifts of the day starting at 5:30 AM – Union Pacific's Ozol Train Yard – Martinez
Union Pacific and other railroad companies have been endangering the workers, the community, and the environment by cutting back on health and safety standards and shipping tons of volatile oil through Martinez and the Bay Area every day. The Lac Megantic Derailment (a train derailment that killed 40 people and blew up half of the town) is a perfect example of how railroad companies endanger the workers, the community, and the environment.
(1) All Bakken crude must be 2x inspected; (every 250 miles);
(2) All Bakken crude be classified as "key" trains; CFR
(3) All Bakken crude trains be crewed by 4 railroad workers; bring back the caboose!!!
(4) All Bakken crude be transported in at least T-112 cars with shelf couplers
(5) Cities must pressure the federal govt.
(6) all cars must be properly marked with signage, numbers, etc.
(7) No Hazardous materials through populated areas
(8) No long and heavy trains
Unanimously approved with friendly amendments!
_____________________________________________
                                     MAY 1st 2014 Direct Actions and Events!
____________________________________________________________________________
United Rank & File Construction Workers Take A Stand on May Day
– Picket Line against the 2 Gate System – 5 AM – 16th and Mission- SF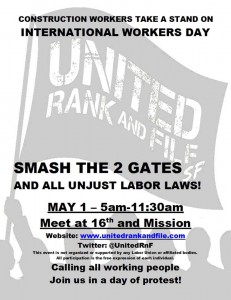 Join us as we return to a proud history of direct action to fight to protect our own livelihoods, to raise up and organize all workers and against laws that restrict us.
On May 1, International Workers Day, we will be gathering at 16th and Mission at 5am to protest the 2 Gate System. This is a system that contractors and developers have created in order to impose the restrictive, discriminatory and repressive anti-worker laws of the Taft-Hartley act on construction unions.
For more info: http://unitedrankandfile.com/2014/04/19/call-to-action-may-1/ – https://www.facebook.com/events/592210377542044/
————————————————————————————————————————————-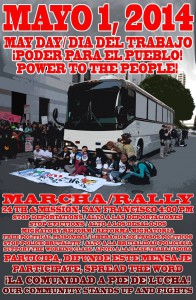 4 PM -24th and Mission – SF
Mayday is celebrated by workers throughout the world. Even though it's origin stems from an 1886 uprising in Chicago, Mayday celebrations in the U.S. have been suppressed by the corporate media and establishment politicians alike. In 2006, however, the power of the immigrant rights movement reestablished May 1st as a day for U.S.-based mass movements to take their demands to the streets.
Today, as workers are facing poverty wages, evictions and foreclosures, deportations, police brutality and countless other forms of oppression, the date is an important one which can unite these issues that affect all workers.
Join community groups and activists in this important date.
The following is a list of demands under the slogan "The Community Fights Back! ¡La Comunidad a Pie de Lucha!"
Full Rights for All Immigrants! Stop the Deportations!
End the Evictions and Gentrification! Housing is a Right!
Stop Police Brutality!
Stop the Privatization of Public Services! Living Wage Now!
Halt and Reverse Environmental Destruction!
No to wars and occupation!
Supporting organizations: ALIADI, ANSWER Coalition, BALASC, Center for Political Education, FMLN-NorCA, Party for Socialism and Liberation, SOA-Watch, Station 40, Yo Soy 132-Bay Area, Talleres Populares de Junio
More info: 415-821-6545
El 1o de mayo es celebrado por trabajadores por todo el mundo. Aunque su origen surge del levantamiento en Chicago en 1886, las celebraciones del 1o de mayo en los EEUU han sido suprimida por los medios corporativos y políticos establecidos por igual. Sin embargo, en 2006, el poder del movimiento por los derechos de los inmigrantes restableció el 1o de mayo como un día para que los movimientos sociales de los EEUU llevaran sus demandas a las calles.
Hoy, cuando los trabajadores se enfrentan a salarios de pobreza, evicciones y quiebras hipotecarias, deportaciones, la brutalidad policía y un sin numero de formas de opresión, la fecha es una importante en la cual puede unir estos temas que afectan a todo trabajador.
¡La Comunidad a Pie de Lucha!
¡Derechos Plenos para Todo Inmigrante! ¡Alto a las Deportaciones!
¡Fin a las Evicciones y Desplazamiento! ¡La Vivienda es un Derecho!
¡Alto a la Brutalidad Policial!
¡Fin a la Privatización de Servicios Públicos! ¡Salario Digno Ya!
¡Parar y Retornar la Destrucción Ambiental!
¡No a las Guerras y Ocupaciones!
Organizaciones en apoyo: ALIADI, ANSWER Coalition, BALASC, Center for Political Education, FMLN-Norcal, Party for Socialism and Liberation, SOA-Watch, Station 40, Yo Soy 132-Bay Area, Talleres Populares de Junio.
————————————————————————————————————————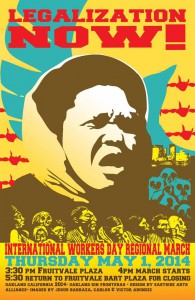 3:30 PM – Rally @ Fruitvale Plaza – Oakland, CA
4:00 PM – March
5:30 PM – Closing  Ceremony @ Fruitvale Plaza – Oakland, Ca
—————————-————————————————————————–
MAY DAY – San Jose

3:00 PM – 6:00 PM
Location Details:
This year we are starting at 2 different locations

1) Story Rd & S King Rd
San Jose, CA 95122

2) Our Lady of Guadalupe Church
2020 E San Antonio St, San Jose 95116
Both locations will march together and end in the same location

San Jose City Hall
200 E Santa Clara St, San Jose, CA 95113

 
Come join over twenty grassroots organizations that will come together on May 1st to demand the rights of workers and migrant communities in San Jose promoting full workers rights while denouncing Obama's Two Million Too Many deportations!
Points of Unity:
PROMOTE FULL WORKERS RIGHTS,

STOP THE DEPORTATION OF ALL IMMIGRANTS,

END SECURED COMMUNITIES,

CREATE A PATH TO CITIZENSHIP,

PROMOTE FAMILY REUNIFICATION,

END E VERIFY,

NO TO GUEST WORKER PROVISIONS and

RECOGNITION OF ALL NATIVE NATIONS FROM ALASKA TO CHILE

This year we are starting at 2 different locations
1) Story Rd & S King Rd
San Jose, CA 95122

2) Our Lady of Guadalupe Church
2020 E San Antonio St, San Jose 95116

Both locations will march together and end in the same location

San Jose City Hall
200 E Santa Clara St, San Jose, CA 95113

Come out and show you support! #SiSePuede #PrimeroDeMayo #Not1more #2million2many
#SanJoseComeOut #CIR #InternationalWorkersDay #ObamaEscucha
—————————————————————————————————–
Film Screening: Wisconsin Rising and Q & A w/ Director Sam Mayfield
May 1, 2014, 7:30 pm
518 Valencia St. (at 16th Street) – San Francisco
"Wisconsin Rising" (55 min.) tells the story of the largest sustained workers resistance in American history. In 2011, Wisconsin was the canary in the coal mine for America as newly-elected Republican Governor Scott Walker suddenly stripped collective bargaining rights from the state's public employees, undoing eight decades of basic workers' rights.
Noche de Película: Wisconsin se Alza y una discusión con el director Sam Mayfield
1º de mayo, 7:30pm
518 Calle Valencia (sobre la Calle 16)- San Francisco
"Wisconsin se Alza" (55 min.) cuenta la historia de la mas grande y sostenida resistencia de trabajadores en la historia americana. En el 2011, Wisconsin era el centro de lucha sindical en America cuando el Gobernador Republicano Scott Walker de repente eliminó el derecho a la negociación colectiva a los empleados estatales públicos, deshaciendo ocho décadas de derechos laborales.
———————————————————————————————————————————————————–
FROM MARIKANA, SOUTH AFRICA TO OAKLAND, CALIFORNIA:
THE STRUGGLE FOR WORKERS POWER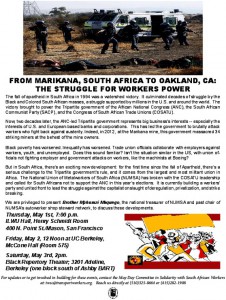 The fall of apartheid in South Africa in 1994 was a watershed victory. It culminated decades of struggle by the Black and Colored South African masses, a struggle supported by millions in the U.S. and around the world. The victory brought to power the Tripartite government of the African National Congress (ANC), the South African Communist Party (SACP), and the Congress of South African Trade Unions (COSATU).
Now, two decades later, the ANC-led Tripartite government represents big business's interests — especially the interests of U.S. and European-based banks and corporations. This has led the government to brutally attack workers who fight back against austerity. Indeed, in 2012, at the Marikana mine, this government massacred 34 striking miners at the behest of the mine owners.
Black poverty has worsened. Inequality has worsened. Trade union officials collaborate with employers against workers, youth, and unemployed. Does this sound familiar? Isn't the situation similar in the US, with union of- ficials not fighting employer and government attacks on workers, like the machinists at Boeing?
But in South Africa, there's an exciting new development: for the first time since the fall of Apartheid, there's a serious challenge to the Tripartite government's rule, and it comes from the largest and most militant union in Africa. The National Union of Metalworkers of South Africa (NUMSA) has broken with the COSATU leadership and called for South Africans not to support the ANC in this year's elections. It is currently building a workers' party and united front to lead the struggle against the capitalist onslaught of deregulation, privatization, and strike breaking.
We are privileged to present Brother Mphumzi Maqungo, the national treasurer of NUMSA and past chair of NUMSA's autoworker shop steward network, to discuss these developments.
THURSDAY, MAY 1, 7:00 PM
ILWU Hall, Henry Schmidt Room
400 N. Point St./Mason, San Francisco
FRIDAY, MAY 2, 12 NOON
UC Berkeley, McCone Hall (Room 575)
SATURDAY, MAY 3, 2:00 PM
Black Repertory Theater
3201 Adeline, Berkeley
(one block south of Ashby BART)
For updates or to get involved in building for these events, contact the May Day Committee in Solidarity with South African Workers at: twsc [at] transportworkers.org. Reach us directly at (510)325-8664 or (415)282-1908
No Responses to " Direct Action/Events Calendar! "